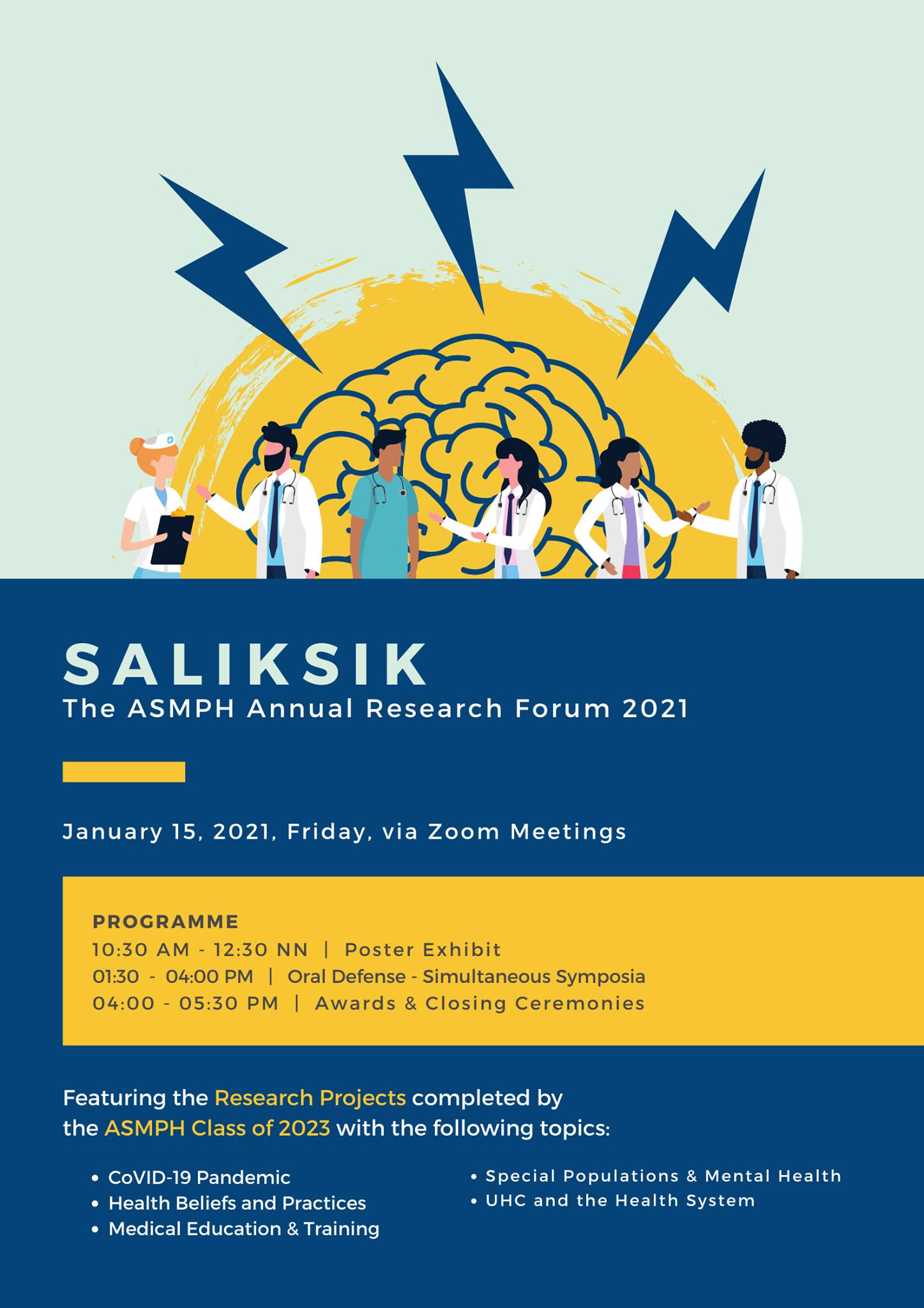 Saliksik 2021: The ASMPH Annual Research Forum
Students of the Ateneo School of Medicine and Public Health learn to become outstanding clinicians not only in practice, but also in research.
The ASMPH encourages research and nurtures students' skills through each step of the research process, under the guidance and mentorship of faculty members. Students may then present their findings in research forums and conferences.
SALIKSIK: The ASMPH Annual Research Forum 2021 showcases research projects by ASMPH Class of 2023. It was held last January 15 via Zoom with topics surrounding COVID-19, health beliefs, systems, and practices, medical education, special populations, mental health, and the UHC law. Aside from communicating findings, students (and their advisers) may also win awards in several categories namely: Best Posters, Best Oral Presentations, and Best Papers.
Among the winning groups, four were supervised by faculty members of ACRI:
1. Mapping the Disaster Risk for Future Pandemics in Philippine Provinces and Cities - a Cross-Sectional Study (Best Poster, 2nd Best Paper) Group 3 Students: Peterni G. Coloyan, Rafael Jose N. Esteban, Juan Carlos D. Michelena, Jemuel Edward Q. Pascual, Juan Paulo R. Riego de Dios Adviser: Dr. Geminn Louis C. Apostol
2. A Narrative Analysis on the Role of Barangay Health Workers (BHWs) in Selected Areas of Luzon in Collecting Household Health Data for Barangay Level Health Planning (3rd Best Poster) Group 15 Students: Roberto John L. Aguinaldo, Maria Carmela-Paz D. Esguerra, Marion Emmanuel P. Lopez, Ysabel V. Pitargue, Jose Caro B. Rementina, Marielle Ashley L. Servando Adviser: Dr. Jeremie De Guzman
3. A Mixed Methods Study Comparing the Dietary Patterns among Students of the Ateneo School of Medicine and Public Health Before and During Enhanced Community Quarantine for COVID-19 (3rd Best Paper) Group 19 Students: Giana Daniela H. Bolong, Selina S. Chiew, Maria Emmerenciana A. Diaz, Mevy Ann R. Galicia, Faye Margaret E. Leonida, Princess Grace N. Mendoza Adviser: Dr. Lourdes Sumpaico-Tanchanco
4. Factors Affecting Primary Healthcare Workers' use of Complementary and Alternative Medicine for the Treatment of Diabetes Mellitus in Metro Manila: A Qualitative Study (2nd Best Oral Presentation) Students: Matthew Fernand M. Alano, Marian Claire P. Ognita, F. Lorenzo Martin A. Puno, Steffanie Anne S. Sarcia, Pierre Benedict L. Yuson Adviser: Veincent Christian F. Pepito
Congratulations to the winners and their respective advisers!
The Ateneo de Manila University Press and the Ateneo Professional Schools are pleased to announce the launch of "Countering COVID-19: Cases in Crisis Response" on July 15, 2021, 2:00 PM - 3:00 PM (PHT).

The Ateneo School of Medicine & Public Health and Public Health England invite you to an online workshop entitled "Using mathematical modelling to aid governance in Universal Health Care in the Philippines." Applications to participate in this workshop are now open until May 1, 2021. Early-career researchers and professionals are eligible to apply.